---
Informace / požadavky
Nejdražší cena na internetu: 800.00 kč
Nejlepší cena na internetu: 200.00-400.00kč
průměrná cena na trhu: 250.00-650.00kč
nejlevnější cena na trhu: 299.00 kč (kolekce klasiky)
Minimální hardwarové požadavky
Procesor Intel Pentium 4 1,4GHz
256 MB operační paměti
128 MB DirectX 9.0c kompatibilní grafická karta s podporou Shader 2.0 nebo lepší (NVIDIA GeForce FX/6/7, ATI Radeon 9200 až 9800 / X1XXX)
Zvuková karta kompatibilní s DirectX 9.0c
7 GB volného místa na pevném disku
DVD-ROM 4x

Doporučené hardwarové požadavky

Procesor Intel Pentium 4 2,4GHz
512 MB operační paměti
Duální analogový ovladač se 4 osami a s 12 a více tlačítky

Až 8GB a více volného místa na pevném disku

Systémové požadavky

Windows 2000 / XP (nikoliv Vista®)

Grafická a zvuková karta Direct X 9.0c (kompatibilní)

Pokud spustíte Resident Evil 4, a při spuštění mise se můžete volně

pohybovat, jenomže cesta a pozadí jsou černá, je to vaší grafickou

kartou. RE4 vyžaduje grafickou kartu Direct X 9.0c a vyšší.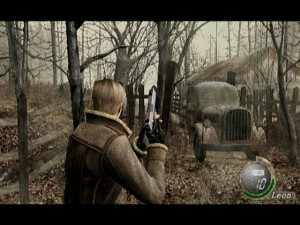 Ostatní
Read me (čti mě) EN
/* resident evil 4 Readme */
Version:1.0.0
*************************
About this Document
Thank you for purchasing "resident evil 4."
Please read this file before playing.
*************************

[Contents]
1. Minimum System Requirements
2. Installation
3. About Microsoft(R) DirectX(R)
4. Setup Tool


1 Minimum System Requirements
----------------------------------------
Supported OS: Microsoft(R)Windows(R)2000/XP *1
Processor: Intel(R) Pentium(R) 4 Processor 1.4GHz
(Intel(R) Pentium(R) 4 Processor 2.4GHz or higher recommended)
Memory: 256MB (512MB or more recommended)
Video Card: 128MB VRAM card with DirectX(R) 9.0c or higher /Shader 2.0 or higher support
(256MB VRAM or higher recommended) *2 *5
Sound Card: DirectX(R) 9.0c or higher compatible sound card *3
DVD Drive: 4x DVD-ROM or higher
Monitor: 800 x 600 resolution(SVGA), High-Color (16-bit color) or better
Supported Controllers: mouse and keyboard (required), PC compatible gamepad (4-axis dual analog sticks and 12 or more buttons required) *4
Hard Drive Space: 7.0GB of free space required
A PC capable of connecting to the internet

*1 Please check that the latest service pack has been installed.
*2 May not run properly with integrated graphics.
*3 May not run properly with onboard sound chips.
*4 USB compatible gamepads only (recommended gamepad: Microsoft's "Microsoft Xbox 360 Controller for Windows")
*5 An NVIDIA(R) GeForce(R) 6600 or better video card is recommended.

Game may not run properly on custom or personally modified computers.
Please exit all other programs before running this game.
If other programs are running, the game may not run properly.
Even if the above minimum system requirements are met, there is a possibility the game may not run properly depending on the computer environment.

2. Installation
----------------------------------------
Please insert the resident evil 4 DVD into your computer's DVD-ROM drive.
Your computer will automatically read the DVD and launch a
resident evil 4 Launcher Menu.
Select "Install" and follow the instructions.

If the Launcher Menu does not auto-launch, please double-click your DVD-ROM drive
from "My Computer" and double click on the "Autorun.exe" file.


3. About Microsoft(R)DirectX(R)
----------------------------------------
Microsoft(R)DirectX(R) 9.0c or higher is required to run this game.
Please check the version currently installed on your computer. Then, if necessary,
please install the latest version of Microsoft(R)DirectX(R) from the link below.


Microsoft(R)DirectX(R)
http://www.microsoft.com/windows/directx/

*Please note that we are not responsible for any problems that you may
experience due to installing Microsoft(R)DirectX(R).
Install at your own risk.


4. Setup Tool
----------------------------------------
After installation, please read the "Setup Tool_readme.html" file
in the "html" folder under the game installation folder.


(C)CAPCOM CO., LTD. 2005, 2006 ALL RIGHTS RESERVED.